Giving Gifts
SERMON NOTES
Christmas tends to bring out the generosity in people.
Matthew 7:11 says "If you know how to give good gifts to your children, how much more will your Father in heaven give good gifts to those who ask him!"
Extreme generosity seems normal when it comes to God's nature!
God, the Father, freely gave His Son for our redemption. What an incredible sacrifice! (John 3:16-18)
God, the Son, freely gave up His heavenly glory to come to His creation. He gave His earthly life to bring us freedom from the power of sin and death! He graciously gave us the Holy Spirit to dwell within us to help us through life. What generous giving is displayed by Jesus Christ!
God, the Holy Spirit, gives us powerful and practical gifts to enable us to live as effective ambassadors for the Kingdom of God. Some of those gifts are the focus of our time together this morning.
---
THIS WEEK

MONDAY, November 26
9:00 am Men's Prayer
1:30 pm Women's Prayertime -specifically praying for our Alberta Education System as well as local schools currently involved in a court case.
7:00 pm Monday Night Men
7:30 pm Young Adults Study at the Piska's (13 Linksview Close)
TUESDAY, November 27
9:00 am Daybreak
6:30 pm The Thinking Series at Perks in Stony Plain
7:00 pm Youth Study
WEDNESDAY, November 28
9:45 am Keenagers Study
4:00 & 6:30 pm AWANA
6:40 pm Corporate Prayer
6:40 pm Understanding the Old Testament
6:40 pm Leading Life Changing Small Groups
6:40 pm Spiritual Gifts
THURSDAY, November 29
7:00 pm Understanding the Old Testament
7:00 pm Soul Care
7:00 pm The Case for Christ
7:00 pm Men's Floor Hockey
FRIDAY, November 30
NO YOUTH
SATURDAY , December 1
9:30 am Kids Musical
1:00 pm Paint Night Event for Antigua Mission Fundraiser

SUNDAY, December 2
9:15 & 11:15 am Worship Services
---
JOURNEY UPDATES
SINGIN' THE GOSPEL Join us on Sunday, November 25 at 6:00 pm The FRASER VALLEY QUARTET. A freewill offering will be taken.
THE THINKING SERIES "Asking Life's Five Biggest Questions" at Perks Coffeehouse, Stony Plain Tuesday nights until Nov. 27 6:30 pm to 8:00 pm. This last discussion will be "Is there life after death ?"
CHILDREN'S CHRISTMAS REHEARSALS ALL Grade 1-6 students are invited to attend our Saturday morning rehearsals. Dec. 1 and Dec. 8 from 9:30 am to 11:30 am.
Pre-school rehearsal (ages 2-K) is Dec. 4 & 5 at 10:00 am. Contact Miss Debbie for more information.
YOUTH: There will be no Youth event this coming Friday, November 30.
BLESS THE PASTORS AT CHRISTMAS Choose a gift card tag from the The Blessing Tree. Purchase your choice and return the gift card and tag to the Box at the Welcome Centre. The last Sunday to select a tag will be Dec. 9.
SGAC's CHRISTMAS BANQUET and the "Retelling of the Christmas Carol". Friday, December 7 at 6:00 pm. Cost is $25/ person. Tickets are available at the Welcome Centre after a Sunday service or by calling /visiting the church office.
Will you join us in Refugee Sponsorship? Your change can make a change! Collection cups are available in the Church lobby. Email Natalie Boldt for more information
---
Financial Update
The General Fund is in need of your help, giving for the current fiscal year July 1 to November 11th has been averaging $20,829 compared to our budget requirement of $24,942. This has resulted in an overall budget shortfall of $82,500 for the current year. As we look to the upcoming year, our budget includes the addition of a pastoral staff member. If we are to proceed, this needs our immediate attention. Please pray about this important matter and give as you are able. God bless you as you commit a portion of your resources to His work in reaching our community for Him.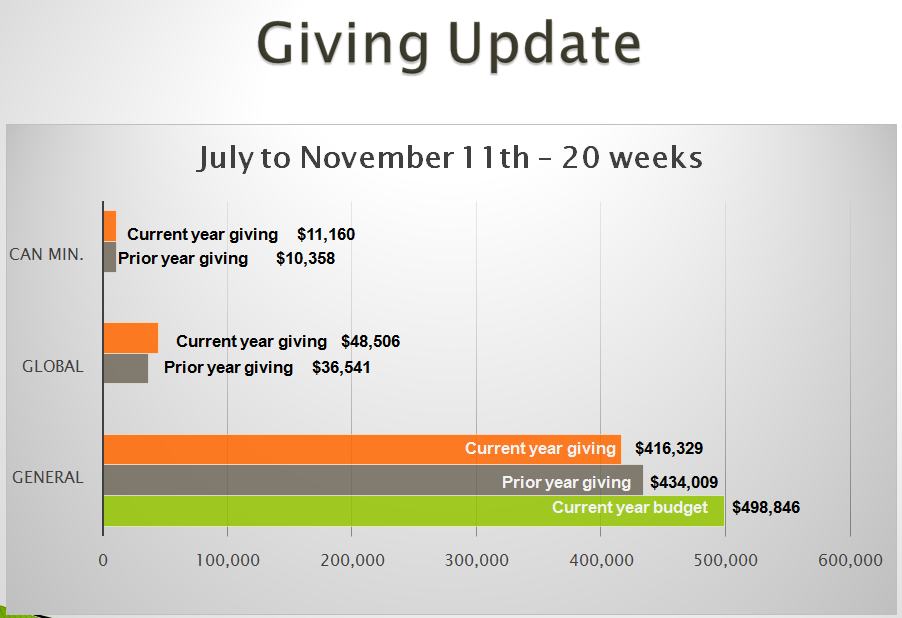 ---
PRAYER
Please pray for:
Our International Workers: Cori Ibsen, Dan & Melodie Ibsen, A & J.Our International Workers: Cori Ibsen, Dan & Melodie Ibsen, A & J.

Our Pastoral Team Staff Member: Pastor Art Quist. Art is married to Betty and they have 3 grown children.

Our Administrative Team Staff Member: Kari Gehlert Kari is married to Lorne and they have 5 children.

Our Elders Team Member: Dante Vinuya. Dante is married to Joyce and they have 2 children ages 19 & 15.
---
Family Matters
We Celebrate with those taking the step of obedience in being baptized this weekend: Crystal Jenkins, Brooklyn Jenkins, Maisy Fournier, Jim Tipper and Sandy Tipper.

CONGRATULATIONS to Nic & Miranda Cooper on the birth of twin boys. Leopold Josiah and Levi Tobias arrived Nov. 16. Two little brothers for big sister Ellie to love. Mom and babies are doing well.

Women's Prayertime Nov. 26 1:30 - 3:00 PM specifically praying for our Alberta Education System as well as local schools currently involved in a court case. Join us for 10 - 15 minutes if you can.