I Am Innocent!
Acts 18
Paul in Corinth
18 After this Paul left Athens and went to Corinth. 2 And he found a Jew named Aquila, a native of Pontus, recently come from Italy with his wife Priscilla, because Claudius had commanded all the Jews to leave Rome. And he went to see them,3 and because he was of the same trade he stayed with them and worked, for they were tentmakers by trade. 4 And he reasoned in the synagogue every Sabbath, and tried to persuade Jews and Greeks.
5 When Silas and Timothy arrived from Macedonia, Paul was occupied with the word, testifying to the Jews that the Christ was Jesus. 6 And when they opposed and reviled him, he shook out his garments and said to them, "Your blood be on your own heads! I am innocent. From now on I will go to the Gentiles." 7 And he left there and went to the house of a man named Titius Justus, a worshiper of God. His house was next door to the synagogue. 8 Crispus, the ruler of the synagogue, believed in the Lord, together with his entire household. And many of the Corinthians hearing Paul believed and were baptized. 9 And the Lord said to Paul one night in a vision, "Do not be afraid, but go on speaking and do not be silent, 10 for I am with you, and no one will attack you to harm you, for I have many in this city who are my people." 11 And he stayed a year and six months, teaching the word of God among them.
12 But when Gallio was proconsul of Achaia, the Jews made a united attack on Paul and brought him before the tribunal, 13 saying, "This man is persuading people to worship God contrary to the law." 14 But when Paul was about to open his mouth, Gallio said to the Jews, "If it were a matter of wrongdoing or vicious crime, O Jews, I would have reason to accept your complaint. 15 But since it is a matter of questions about words and names and your own law, see to it yourselves. I refuse to be a judge of these things." 16 And he drove them from the tribunal. 17 And they all seized Sosthenes, the ruler of the synagogue, and beat him in front of the tribunal. But Gallio paid no attention to any of this.
Paul Returns to Antioch
18 After this, Paul stayed many days longer and then took leave of the brothers and set sail for Syria, and with him Priscilla and Aquila. At Cenchreae he had cut his hair, for he was under a vow. 19 And they came to Ephesus, and he left them there, but he himself went into the synagogue and reasoned with the Jews.20 When they asked him to stay for a longer period, he declined. 21 But on taking leave of them he said, "I will return to you if God wills," and he set sail from Ephesus.
22 When he had landed at Caesarea, he went up and greeted the church, and then went down to Antioch. 23 After spending some time there, he departed and went from one place to the next through the region of Galatia and Phrygia, strengthening all the disciples.
Apollos Speaks Boldly in Ephesus
24 Now a Jew named Apollos, a native of Alexandria, came to Ephesus. He was an eloquent man, competent in the Scriptures. 25 He had been instructed in the way of the Lord. And being fervent in spirit, he spoke and taught accurately the things concerning Jesus, though he knew only the baptism of John. 26 He began to speak boldly in the synagogue, but when Priscilla and Aquila heard him, they took him aside and explained to him the way of God more accurately. 27 And when he wished to cross to Achaia, the brothers encouraged him and wrote to the disciples to welcome him. When he arrived, he greatly helped those who through grace had believed, 28 for he powerfully refuted the Jews in public, showing by the Scriptures that the Christ was Jesus.
---
SERMON NOTES
"One way to recognize whether we suffer from this disconnection is to look at our concern for people who are dirty... people who are "other"... people who don't fit the core group's image. The ravages of sin are not pleasant--but they are what Jesus came to forgive and heal. "The Son of Man came to seek and to save what was lost" (Luke 19:10). Yet Christians often hesitate to reach out to those who are different. They want God to clean the fish before they catch them." - Jim Cymbala
When was the last time you had a spiritual conversation with someone who did not believe in Jesus Christ as the Saviour?
When was the last time you were reviled or opposed for the Gospel? How did you respond? How do you feel about Paul's response in Acts 18:6?
The Gospel demands a response.... how can we become more effective in reaching our Community as a Church?
Scriptures to Consider
1. 2 Corinthians 5
2. Matthew 28
3. Acts 1:8
---
THIS WEEK

MONDAY, May 28
9:30 am Outreach Prayer
1:30 pm Women's Prayertime
7:00 pm Family Badminton
7:30 pm Monday Night Men

TUESDAY, May 29
7:00 pm Youth Small Groups

WEDNESDAY, May 30
9:45 am Keenagers Study

THURSDAY, May 31
4:00 - 8:00 pm Drop off donations for Garage Sale
7:00 pm Pastor Daryl & Birgit Sam Dessert Night

FRIDAY, June 1
11:00 am -7:00 pm Antigua MIssions Garage Sale
7:30 pm Youth
SATURDAY , June 2
9:00 am -3:00 pm Antigua MIssions Garage Sale
SUNDAY, June 3
9:15 am & 11:15 am Worship Services
---
JOURNEY UPDATES
DESSERT NIGHT with Pastor Daryl and Birgit Sam on Thursday May 31 at 7:00 pm. Do you want to know more about their move to Monaco? They will have an opportunity to share and answer questions about their upcoming move. Please RSVP to Pastor Daryl & Birgit. Note: June 3 will be Pastor Daryl's ordination and commissioning service.
ANTIGUA GARAGE SALE To support our 2019 Antigua Missions Team we are hosting a garage sale here June 1 (11:00 am to 7:00 pm) & June 2 (9:00 am to 3:00 pm). Items can be dropped off today after the second service or Thursday in the gym. More details on our Spruce Grove Alliance Church Facebook page.
GRADE 6 STUDENTS and your families – You are invited to attend our annual Grade 6 celebration on Friday, June 8 6:00 pm. Tickets are $5 per person. Please contact us at the office by June 5.
GRANDPARENTING MATTERS CONFERENCE June 22-23. Visit our website for details or to register.
NEW MEMBERS We welcome Heath & Constance Theberge, Rhoda Beauchamp and Shirley Carter as new members this morning.
EMPLOYMENT OPPORTUNITIES We are seeking to hire two individuals for our Custodial Team. These are both part time positions starting June 15. Experience preferred. Contact Pastor Art for more information or to submit your resume for consideration.
SAFETY & RISK MANAGEMENT , Wednesday, June 13 at 6:30 pm. All volunteers working with children and youth are required to be trained once a year. If you are wanting to work with children on Sunday mornings in the summer or fall or at VBS please plan to attend. Please note there will be another training Aug 8 at 7:30 pm. RSVP to Debbie Funk if you will attend.
FUTURE DEVELOPMENT PHASE 1 – Our Sunday School kids raised $11,000 for the future development of their church.
Now they are challenging "Big Church" to match their gifts 10-fold before summer...
If every adult here gives $170, we'll raise $110,000 by June 30!
We're half way through our challenge...
but have only raised 18% of our goal!
Make your gift today – and invest in the next 40 years of Spruce Grove Alliance Church!
---
FINANCIAL UPDATE

Weekly Update May 20, 2018
General Fund giving May 20 $ 17,777
46 week average $ 23,655
-- Budget requirement $ 24,327

Future Dev. Fund giving May 20 $ 3,290
--Balance as of May 20, 2018 $924,911
Monthly Update July1 to Apr. 30, 2018
Global Advance Giving $121,259
Canadian Ministries Giving $ 37,761
---
PRAYER
Please pray for:
Our International Workers: Travis & Sharon Thiessen, K.I., Jon & Andrea Bauer.

Our Pastoral Team Staff Member: Pastor Scott Buck - Scott is married to Lyn and they have 6 boys ages 10, 9, 7, 6, 3 and 2.

Our Administrative Team Staff Member: Debbie Funk. Debbie is married to Rod and they have two children ages 14 and 12.

Our Elders Team Member: Dante Vinuya. Dante is married to Joyce and they have 2 children ages 18 & 14.
---
Future Development Updates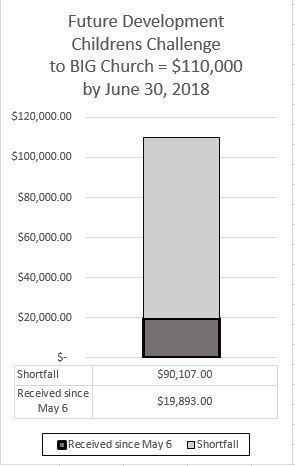 ---
Family Matters
CONGRATULATIONS to Cody & Jessica Namchuk (nee Jespersen) on the birth of their 4th daughter. Grace Jessica was born May 19.
OUR CONDOLENCES to Nick Henetiuk on the passing of his brother; Doug Burletoff in the passing of his sister-in-law & Carol Dyck in the passing of her Dad.