What in the World Are We Doing?
Matthew 28:18-20 (NIV)
18 Then Jesus came to them and said, "All authority in heaven and on earth has been given to me. 19 Therefore go and make disciples of all nations, baptizing them in the name of the Father and of the Son and of the Holy Spirit, 20 and teaching them to obey everything I have commanded you. And surely I am with you always, to the very end of the age."
Matthew 28:18-20 (Msg)
18-20 Jesus, undeterred, went right ahead and gave his charge: "God authorized and commanded me to commission you: Go out and train everyone you meet, far and near, in this way of life, marking them by baptism in the threefold name: Father, Son, and Holy Spirit. Then instruct them in the practice of all I have commanded you. I'll be with you as you do this, day after day after day, right up to the end of the age."
Acts 1:8 (NIV)
8But you will receive power when the Holy Spirit comes on you; and you will be my witnesses in Jerusalem, and in all Judea and Samaria, and to the ends of the earth."
---
SERMON NOTES
We need to shift from Me to Mission

We need to shift from Ministry to Missions
---
THIS WEEK

MONDAY, June 4
9:30 am Outreach Prayer
1:30 pm Women's Prayertime
7:00 pm Family Badminton

TUESDAY, June 5
7:00 pm Youth Small Groups
7:00 pm Deep Dish

WEDNESDAY, June 6
NO Keenagers Study

THURSDAY, June 7

FRIDAY, June 8
6:00 pm Grade 6 Celebration
7:30 pm Youth - Melon Night (event is for grades 7-12 students)
SATURDAY , June 9

SUNDAY, June 10
9:15 am & 11:15 am Worship Services
6:00 pm Hymn Sing
---
JOURNEY UPDATES
WOMEN join us Tuesday, June 5 at 7:00 pm for DEEP DISH. A time of connection, community, and conversation. We will meet in the Fireside Room and dessert and coffee will be served. All women are welcome to attend this casual evening.
GRADE 6 students and your families – You are invited to attend our annual Grade 6 celebration on Friday, June 8 6:00 pm. Tickets are $5 per person. Please contact Janet at the office by June 5.
HYMN SING June 10 at 6:00 pm. Join us for a good old fashioned Hymn Sing. This is open to all ages. Bring finger foods to share after the event.
GRANDPARENTING MATTERS CONFERENCE June 22-23. Visit our website for details or to register.
SAFETY & RISK MANAGEMENT TRAINING, Wednesday, June 13 at 6:30 pm. All volunteers working with children and youth are required to be trained once a year. If you are wanting to work with children on Sunday mornings in the summer or fall or at VBS please plan to attend. Please note there will be another training Aug 8 at 7:30 pm. RSVP to Debbie Funk if you will attend.
FUTURE DEVELOPMENTS: PHASE 1– Our Sunday School kids raised $11,000 for the future development of their church. Now they are challenging "Big Church" to match their gifts 10-fold before summer...
If every adult here gives $170, we'll raise $110,000 by June 30!
We're 1 month into our 2 month challenge…
but have only raised 24% of our goal!
Make your gift today – and invest in the next 40 years of Spruce Grove Alliance Church!
MONUMENTAL DECISIONS - Wills & Estate Planning Wednesday, June 13 at 9:45 am. Rev. Gordon Sorenson from Ellerslie Baptist Church will speak to the Keenagers followed by noon meal ($5) and Farewell for Russell & Virgie Mueller who are moving to Prince George. Please sign up for the meal at the Welcome Centre or at the church office.
DEEPER LIFE SCHOOL OF THEOLOGY is offering the course, "Foundations in Christian Counseling". Learn counseling theories techniques as well as current trends in both secular and Christian Counseling . This will be held June 21 - 23. Register with Pastor Coreen.
VBS August 13-17 Registration is now open online.
---
FINANCIAL UPDATE

Weekly Update May 27, 2018
General Fund giving May 27 $ 21,822
48 week average $ 23,617
-- Budget requirement $ 24,327

Future Dev. Fund giving May 27 $ 7,094
--Balance as of May 20, 2018 $935,564
Monthly Update July 1, 2017 to May 31, 2018
Budget Revenue amount to Date: $1,167,696
General Revnue to Date: $1,133,620
-Budget Shortfall $34,076
Expenses to Date $1,046,112
-Year to date Surplus $87,508
Global Advance Giving $128,336
Canadian Ministries Giving $ 39,812
---
PRAYER
Please pray for:
Our International Workers: Shelby Fehr, Camp Nakamun Staff, Tim & Julie Wiebe.

Our Pastoral Team Staff Member: Pastor Art Quist. Art is married to Betty and they have 3 married children.

Our Administrative Team Staff Member: Joanne Fehr. Joanne is married to Bruce and they have 2 adult children.

Our Elders Team Member: John Olsen. John is married to Arlene and they have 4 children ages 15, 13, 7 and 6.
---
Future Development Updates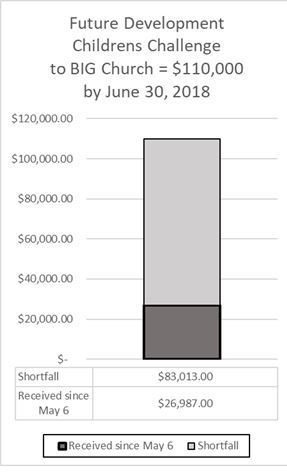 ---
Family Matters
CONGRATULATIONS to Pastor Daryl Sam for completing his ordination process with the Christian & Missionary Alliance. We are blessed to have Pastor Daryl & Birgit here with us this Sunday morning (June 3).