Future Development Project: Phase 1
Spruce Grove Alliance Church is building a spiritual home for the people of Spruce Grove and Parkland County. To meet the needs of today, and to enable us to support our growing communities into the future.
Read the background behind this project here.
Where are we currently at?
As of November 25, 2018, $1.25 million in cash, and an additional $800,000 in pledges has been generously committed towards our $6 million project goal.

Laying the Groundwork
Now we're embarking on a campaign to complete the ground work required before we can begin construction on Phase 1.

The Future Development Team is aiming to raise $750,000 – and we need your help!

The Future Development Team, with the support of the Church Board, is aiming to begin preparing the church site for future construction. We have a lot of work to do to get ready!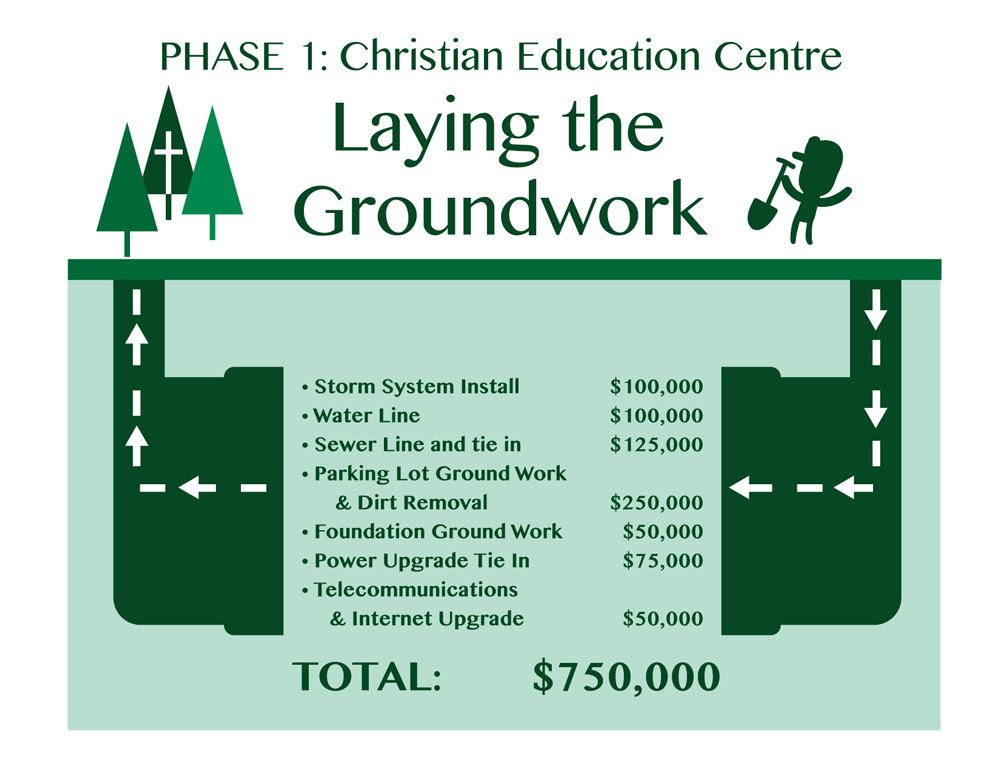 The team has been hard at work preparing for this groundwork to begin:
In September we began working with our architect on the design development and preliminary engineering on the Christian Education Centre (we had put that work on hold as we turned our focus to fundraising for the project).
In October the City of Spruce Grove confirmed that we will require a development permit for the planned site upgrades. We have directed our architect to begin preparing the drawings required for that submission.
Also in October we hosted a meeting with the architect and our ministry staff to discuss specific space requirements for the Christian Education Centre. At this meeting it was decided that a tour of other churches would be helpful to ensure that our new space is designed to best meet the needs of all of the groups that will use the new building.
Over the course of November our ministry staff toured three churches to see how other, more modern churches design and use their space.
The next step in this project – happening in parallel with our fundraising – is developing conceptual plans for the new build. We look forward to sharing these with the congregation for comment and feedback.

We encourage all those who call Spruce Grove Alliance Church home to consider how they can and will contribute to the success of this project. We are looking to raise $750,000 to fully fund this preliminary stage of the project – site service upgrades. And are continuing to raise funds to meet our goal of 1/3 cash, 1/3 pledged so we can start full construction.

Join us today and help build a spiritual home for the people of Spruce Grove and Parkland County!
Questions? Visit the background and history of this this project and Phase 1 here or read through the Frequently Asked Questions here.