Future Development Project: Phase 1
*Update for June 23, 2017
The Future Development Team is excited to announce that we have raised our first $1 million – thank you for your prayerful support of this project! We are also encouraged to see the potential for continued giving:
314 people voted regarding Phase 1 (89% approval)
85 pledges have been received to date (representing approx. 170 potential voters)
Fundraising Campaign Results – June 18th, 2017
Cash Required – 0ne third $2,000,000
Upfront Cash Pledged $179,150
Future Development Fund Balance $424,321
Gifts in Kind Pledged $155,000
Total Cash $758,471
Shortfall (Cash on Hand) $1,241,529

Pledges Required (One third over 3 years) $2,000,000
Total pledges $868,620
Shortfall (3 year pledges) $1,131,380


***CONGREGATIONAL MEETING***
On July 12 at 7:00 pm we will be hosting another Congregational Meeting to discuss next steps, and answer any outstanding questions. Please continue to return your pledge forms if you haven't already as we continue to work towards our goal.
Please continue to visit the Frequently Asked Questions page as it is updated.

Spruce Grove Alliance Church was built on a foundation of evangelism;
Of building community both internationally and close to home.
To advance the Gospel,
To reach the lost,
And to provide a home of spiritual growth and Godly compassion.

Our local community - the people of Spruce Grove, Stony Plain and Parkland County - need us more than ever to be a welcoming place of God's love;
A spiritual home.

Spruce Grove is growing.
And as you know, our largest demographic is, and continues to be, our children.

These children, and their families, need a place where the love of Christ is paramount and the teaching of the Gospel is prioritized;
Where they are welcome;
Where they are loved;
And where they can grow in their knowledge and love of Christ.

Spruce Grove Alliance Church can be that place.

Phase 1 of our building campaign will help us to continue to provide excellence in Christian education;
And to establish the capacity to grow that opportunity;
To reach our Community - it's children and families.

Will you join us?

Help build upon the foundation of Spruce Grove Alliance Church;
To fulfill the vision God has set for us.

Do not despise this small beginning, for the eyes of the
Lord rejoice to see the work begin. Zechariah 4:10


---
Role of the Congregation
To realize this vision – to grow our facility to meet the spiritual needs of our community - we will all have a role to play:
• Join us in prayer to determine how God is leading us as a congregation, and as individuals;
• Consider how you can contribute to this project financially; and
• Share with us the skills and talents you have, and your willingness to use these skills to support the project.

We all have abilities and talents - skills we use daily or rarely have the opportunity to practice. The success of this project, and our ability to maintain our budget, will require electricians, videographers, prayer warriors, child care workers, landscapers, administrators and other skills we haven't even considered. Please don't assume that we already know who you are, or what you can do.

For the sake of this project, and other church needs, we are asking you to indicate your willingness to help, as well as the skills and expertise you have to share. We don't know if or when we will need your help, but know that many hands will be required.
---
Timeline
It is our hope to move forward with Phase 1, our Christian Education Centre, for the summer of 2018.
---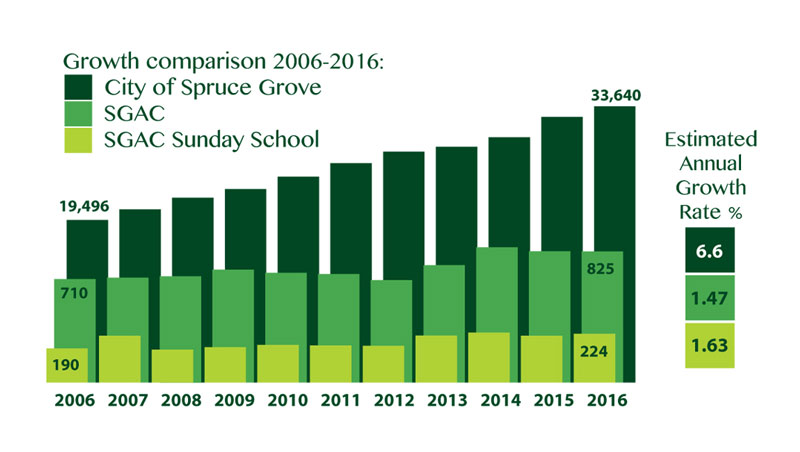 ---
Frequently Asked Questions:
Have Questions or Concerns? We're here to provide answers! Visit our FAQ Page HERE, to reach out to our team and to see the answers to questions already asked!
*updated April 25, 2017