Future Development Project: Phase 1

Spruce Grove Alliance Church is building a spiritual home for the people of Spruce Grove and Parkland County. To meet the needs of today, and to enable us to support our growing communities into the future.
Read the background behind this project here.
Where are we currently at? Cash Fundraising:
We've reached our $2 Million Goal!

As of June 30, 2019 we have reached our goal of raising $2 million towards the redevelopment of Spruce Grove Alliance Church - thank you to all who have faithfully given! We are thrilled to be able to move into the summer building season with this first financial goal achieved.
Next Step in Fundraising: Pledge Support *UPDATED OCT 2019*

With the first part of the Alliance District's financing guideline (1/3rd cash on hand) met, we turn our focus to the second part of the district's requirement: securing 1/3 of the total project cost in pledge commitments over a three year period.
As of January, 2020 our pledge total is $1,027,000. That means we are already over halfway to our goal!
If you haven't done so already, please prayerfully consider what you are able to commit to this project over the next 3 years. The more we are able to raise as the project goes forward, the less debt the church will incur for the future.
This table represents what we think our church is capable of committing to, given current giving patterns and our previous pledges: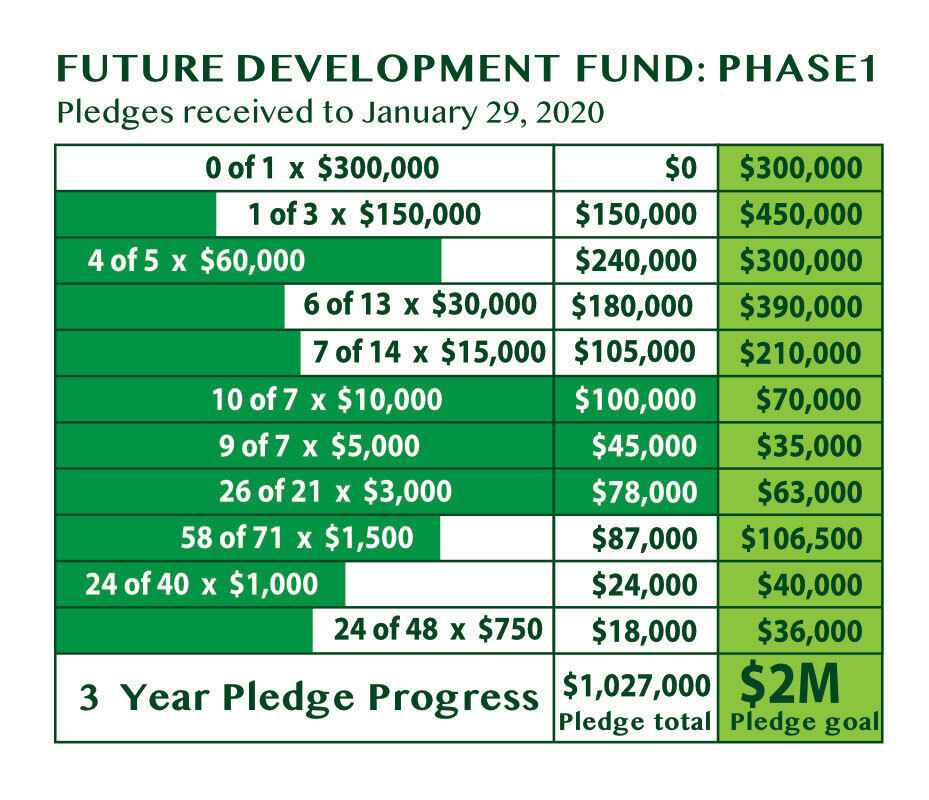 In the past 21 month we have raised over $800,000 per year – so this goal is not unreasonable. And if we are successful, after three years we will be close to paying for most of the anticipated expenses of this project. This means reduced – or even no debt - when the Education Centre is complete!
NEW / RENEWED 3 Year Faith Promise:
For detailed Professional Services-Donation Guidelines, click here.
---
Construction Update
Discussions with ministry leaders as well as tours of other facilities have allowed us to begin planning how to best design our Education Centre. These conversations will continue as we seek to maximize space and the effectiveness of the building. And we are planning a number of opportunities for volunteers, leaders and all those who will use the facility to participate in the site design.
Summer Construction

In an effort to reduce the disruption to our regular programs, it was determined that summer is the best time to begin the necessary utility upgrades. Summer also provides the best weather (hopefully) for this type of construction. For these reasons the board has provided approvals for our team to move forward with the utility upgrades starting this spring.

As such, a development permit has been submitted to the city. We are also beginning the process of gathering bids for the proposed work.

Do not be fooled – the utility upgrades will be messy. Like every construction project there will be dirt and mud; parking will be a disrupted; and we're likely to face unexpected challenges. But we will keep our eye on the future and look forward to a smooth parking lot, dependable utility services and room to grow well into the future.
Questions? Visit the background and history of this this project and Phase 1 here or read through the Frequently Asked Questions here.