Thou Shall Not Bare False Witness
Acts 5:1-11
Ananias and Sapphira
5 But a man named Ananias, with his wife Sapphira, sold a piece of property,2 and with his wife's knowledge he kept back for himself some of the proceeds and brought only a part of it and laid it at the apostles' feet. 3 But Peter said, "Ananias, why has Satan filled your heart to lie to the Holy Spirit and to keep back for yourself part of the proceeds of the land? 4 While it remained unsold, did it not remain your own? And after it was sold, was it not at your disposal? Why is it that you have contrived this deed in your heart? You have not lied to man but to God."5 When Ananias heard these words, he fell down and breathed his last. And great fear came upon all who heard of it. 6 The young men rose and wrapped him up and carried him out and buried him.
7 After an interval of about three hours his wife came in, not knowing what had happened. 8 And Peter said to her, "Tell me whether you sold the land for so much." And she said, "Yes, for so much." 9 But Peter said to her, "How is it that you have agreed together to test the Spirit of the Lord? Behold, the feet of those who have buried your husband are at the door, and they will carry you out."10 Immediately she fell down at his feet and breathed her last. When the young men came in they found her dead, and they carried her out and buried her beside her husband. 11 And great fear came upon the whole church and upon all who heard of these things.
SERMON NOTES
"It is not the being seen of men that is wrong, but doing these things for the purpose of being seen of men. The problem with the hypocrite is his motivation. He does not want to be holy; he only wants to seem to be holy. He is more concerned with his reputation for righteousness than about actually becoming righteous. The approbation of men matters more to him than the approval of God." - Augustine
"The human heart has so many crannies where vanity hides, so many holes where falsehood lurks, is so decked out with deceiving hypocrisy, that it often dupes itself." - John Calvin
---
What is your first reaction to reading Acts 5:1-11?

How do you think God disciplines people in the Church today or does He?

What do you think we should take away from this passage?
---
Scriptures to Consider
Luke 6:46-49
Matthew 6:1-4
Joshua 7
---
THIS WEEK

MONDAY, November 27
9:30 am Outreach Men's Prayer
1:30 pm Women's Prayertime
7:30 pm Monday Knight Men

TUESDAY, November 28
9:00 am Daybreak
7:00 pm Youth Studies

WEDNESDAY, November 29
9:45 am Keenager's Study
4:00 pm AWANA
5:30 pm TREK
6:30 pm AWANA
6:40 pm Road to Emmaus
6:40 pm Men's Study
6:40 pm Truth Project Study
6:40 pm Worship & Prayer

THURSDAY, November 30
7:00 pm Men's Floor Hockey

FRIDAY, December 1
7:00 pm Youth - Sr. High Event - Service Night

SATURDAY , December 2
9:00 am Children's Musical Rehearsal

SUNDAY, December 3
9:15 & 11:15 am Worship Services


---
JOURNEY UPDATE
SINGIN' THE GOSPEL Sunday evening at 6:00 pm – Freedom Singers. Their story is filled with hope about a God who provides during hard times. A freewill offering will be taken.
CHRISTMAS UNPLUGGED Dessert Night -come out on Monday, December 4 at 7:00 pm for a Christmas comedy and music surprise! Featuring comedy by Leland Klassen and music by Dan Macaulay, this is a night you don't want to miss. Tickets are $20 each at the Welcome Centre. Tickets are close to being sold out, so get yours today before they are gone!
FUTURE DEVELOPMENT If you have not already, please submit your pledge form. This will allow us to plan for the future with a full understanding of the ability and willingness of the congregation to support Phase 1. Pledge forms are available online at www.sgac.net/phase1 or at the Welcome Centre.
BLESSING TREE Bless the Pastors by choosing a "gift tag" from the Blessing Tree in the foyer, purchase your choice and return the gift card to the box in the Welcome Centre. The tree will be up from November 26 to December 10. All gift cards should be in by December 17 so they can be distributed before Christmas. Thank You for blessing the Pastors this season.
MUSIC MINISTRY NEEDS YOU! Do you sing or play an instrument? We are looking to enhance the music ministry and would love to hear from you. Please contact Pastor Andrew or Karen Lapp in the office for more information or to be involved.
WOMEN join us Tuesday, December 5 at 7:00 pm for DEEP DISH. A time of connection, community, and conversation. We will meet in the Fireside Room and dessert and coffee will be served. All women are welcome to attend this casual evening.
---
FINANCIAL UPDATE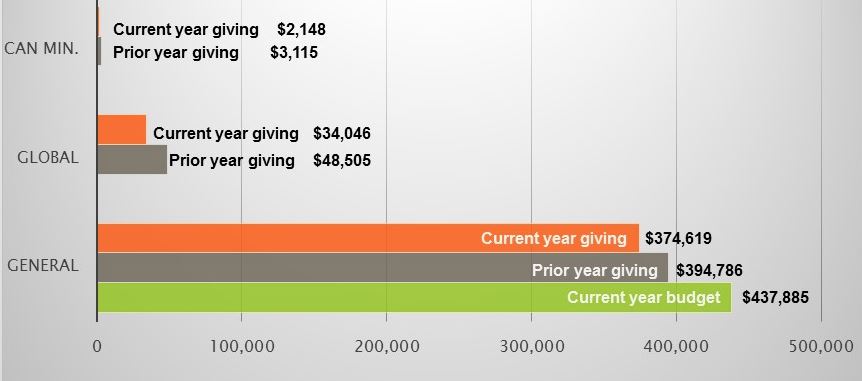 ---
PRAYER
Please pray for:
Our International Workers: David & Annette Faszer, Cori Ibsen, Dan & Melodie Ibsen.

Our Pastoral Team Staff Member: Pastor Andrew Bugiera. Andrew is our Pastor of Worship, Arts & Prayer. He is married to Amy and they have three children ages 7, 3 years and 23 months.

Our AdministrativeTeam Staff Member: Karen Lapp. Karen is married to Jon and they have 2 children ages 18 & 15.

Our Elders Team Member: Del Dyck. Del is married to Carol and they have two married children
Family Matters
IT'S A BOY!! Ocean Wesley Bruce was born Nov. 10. Proud Parents are Pastor Josh and Beth Palsky.

Congratulations to the Clarke family on the birth of Olivia Margaret Elizabeth. Olivia was born on November 21 and both mom and baby are doing well.