Discipleship Pathway
Centered in Jesus Christ, we will thrive spiritually, build community, and reach the lost by loving our community and serving the world.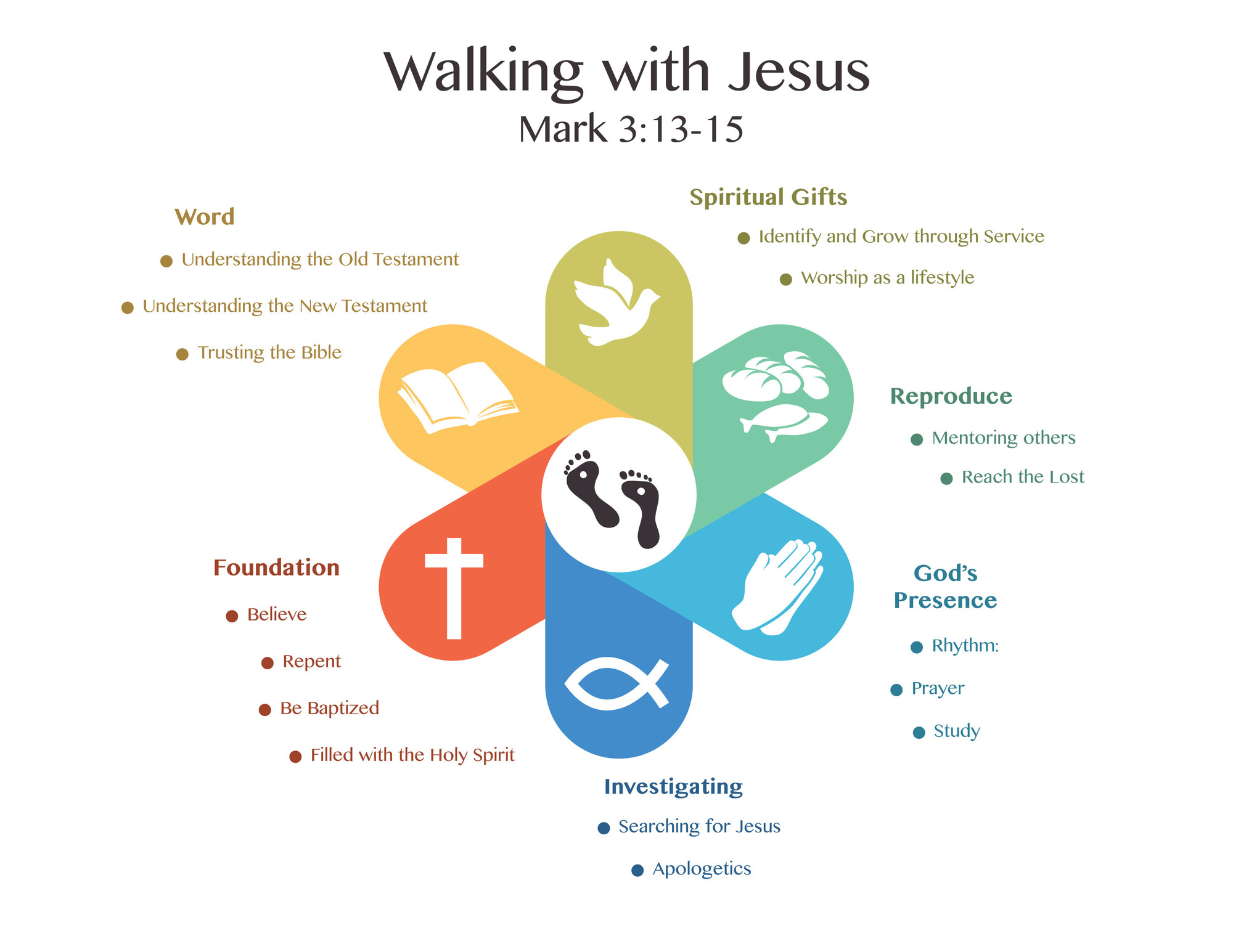 It is the goal of SGAC to have the resurrected Jesus at the centre of all things. Our desire is to see people grow in their spiritual journey. From one who investigates the claims of Jesus to one walking with Jesus as a mature person of faith.

To help with the journey we have developed this wheel that helps identify key steps along the pathway. The foundation of a Christian life is to first believe in the person of Jesus Christ as the only substitute for our sin, then to repent or turn form our Sins, followed by a public profession of our faith through the waters of baptism. Finally we are to be filled with the Holy Spirit in order to walk out the Christian journey. In order to mature in our faith we long to encourage followers of Jesus to develop rhythms that foster and strengthen a daily personal relationship with Jesus through prayer and scripture reading.

The second leg in the journey is to "Study to show yourself approved" (2 Tim 2:14-16). It is our hope that
each person that attends SGAC would have a clear, in-depth, accurate and full understanding of the Word
of God and seek to apply it in their daily lives.

In addition, as the Bride of Christ walks in the fullness of the Holy Spirit, the fruit of the Spirit will be evidenced in our lives. As the fruit of the Spirit is evidenced so too will we operate using the Spiritual gifts in
order to glorify God, edify the body and reach lost people with the gospel of Jesus Christ.

Finally, we desire to encourage maturing believers to serve/mentor others in the church and those seeking
truth and salvation. We long to be a people who make a significant impact for the Kingdom. That Jesus
would be pleased by our service and sacrifice.

The Discipleship Pathway has been created to help you discern what the next step is for you in your faith
journey. Maybe you are investigating who Jesus is and why He came. Would you consider attending "The
Case for Christ" to meet with others on a similar journey in find answers to questions you have? Maybe
you have resolved who Jesus is but you are not sure how the Old or New Testament fit together, consider
attending our "Understanding" studies to gain a deeper knowledge. You have a basic grasp but need
to strengthen your bible knowledge. Or maybe you have a decent understanding of God's word but want
to dive in a bit deeper on a specific subject. Please consider: Daybreak or Evening Edition, Men's Monday
Night study, Keenagers, Young Adults, Youth or Awana. These studies are geared to help you grow in your understanding of God's Word.