Phase 1 Future Development
The Future Development Team is excited to provide an update on the Education Centre – and to provide a vision for how the project will roll out over the next few months.
We currently have 1.9 million raised towards our $2 million goal. This 1.9 million consists of $1,726,998 cash on hand, $95,000 gifts in kind & $84,070 expenses.
Kick Off to our Pledge Campaign
Our goal is to secure commitments for this next 3-year pledge drive by the end of June, so we can go into the summer building season with a clear sense of our financial situation. This table represents what we think our church is capable of committing to, given the current giving patterns and previous pledges: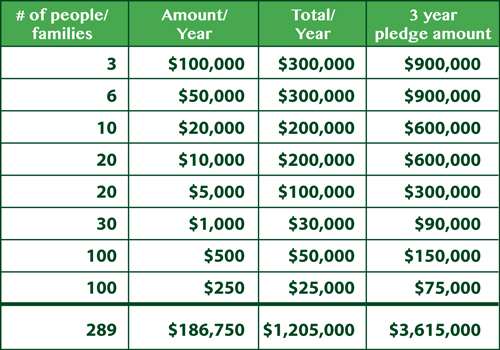 In the past 2 years we have raised over $700,000 per year – so this goal is not unreasonable. If we are successful in meeting the goals set out in this chart, after 3 years we will be close to paying for most of the anticipated expenses of this project. This means reduced or no debt.
Construction Update
Over the summer months we'll be working on underground services, and you'll see disruption to our parking lot. As such, a development permit application has been submitted to the city and we are gathering bids for the proposed work.
We encourage you to continue to pray and consider your own pledge commitment to reach our community and be the "Home Church of Spruce Grove".
---
THIS WEEK

MONDAY, April 29
9:00 am Men's Prayer
9:00 am Women's Prayer Time

TUESDAY, April 30
9:00 am Daybreak
7:00 pm Youth Study
WEDNESDAY, May 1
9:45 am Keenager's Study
7:00 pm Women's Study "It's Not Supposed to be This Way"
7:30 pm Young Adults at Piska's
THURSDAY, May 2
7:00 pm Men's Floor Hockey
FRIDAY, May 3
NO YOUTH
SATURDAY, May 4

SUNDAY, May 5
9:15 am & 11:15 am - Worship Services
9:30 am & 11:30 am - Baptism Classes with Pastor Art
---
JOURNEY UPDATES
Baptism Classes May 5 meet with Pastor Art in the Prayer Room at 9:30 am or 11:30 am. Please contact Pastor Art if you would like to attend.
PAINTING FOR A CAUSE Saturday, May 11, 10:00 am - NOON Please join us for a morning of painting and desserts. The proceeds from every ticket sold will go directly to the refugee family that our church is sponsoring. Tickets are $25 per person
Flower Basket Fundraiser supporting Future Development for the Education Wing. Fill out an order form at the Welcome Centre following a Sunday service, this week is the last chance for ordering. Pick up will be May 10.
KEENAGERS 55+ WELCOME SPRING BRUNCH Saturday May 11 at 10:00 am . Special guests are The Fehr Family. They love to play gospel and bluegrass music, sing four part harmony and keep the treasured songs and hymns of the past alive. Tickets are $10. Call the church office to sign up.
THE THINKING SERIES is back:
May 2: What is the meaning of life?
May 9: Does God exist?
May 16: Do all religions lead to God?
May 23: Why is There Evil?
May 30: Is There Life after Death?
Bring a friend and join Pastor Steve Kim at 6:30 pm in the Fireside Room each Thursday night in May.
PLEASE NOTE: The gym is not open for play on Sunday mornings. Parents - please supervise your children. Thanks for your attention to this matter.
Calling all SGAC volunteers (ages 12+) . You and your spouse are invited to join us on May 15 at 6:00 pm for our Volunteer Appreciation Dinner. Participate in or observe the game of Survivor as it plays out. Proving once and for all that SGAC's volunteers have what it takes to outsmart, outlaugh, and outfun at all times! Please RSVP to the Church office.
---
PRAYER
Please pray for:
Our International Workers: Jon & Andrea Bauer, Jerry & Lois Dorn, Camp Nakamun Staff.

Our Pastoral Team Staff Member: Pastor Andrew Bugiera. Andrew is our Pastor of Worship, & Prayer. He is married to Amy and they have three children ages 8, 5 & 3.

Our Support Staff Team Member: Sharina Kim. Sharina is married to Steve and they have two children ages 5 & 3.

Our Elders Team Member: Tim Wiebe. Tim is married to Julie. They have 3 children ages 17,14 & 13.
---
Family Matters
Dessert Night and Silent Auction April 29 7:00pm. We want to invite you to support Jasmynn Barendregt as she prepares to go to YWAM in July. She trains in New Zealand and goes on missions trip for 5 months. Come for dessert.